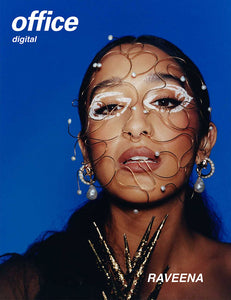 http://officemagazine.net/raveenas-awakening (click here) "While Raveena builds a beautiful world around her, office wanted to dig deeper and explore the universe she constructs inside of her. For the soul-singer, her artistry goes past what is presented on the exterior, and instead, we are." "As our February Digital Cover star for 2022, we uncovered her aura, literally. As we headed to Magic Jewelry in Chinatown, Raveena's old stomping grounds, we attended her aura reading which unveiled the hue, pallet, and creative direction behind the Digital Cover shoot."
---
• Cyber Angel • JAY • Jay Khendar • VIVERO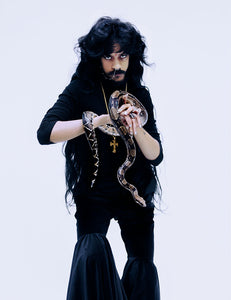 https://www.ladygunn.com/fashion-style/vivero/ (CLICK HERE TO READ)  As NYFW approaches Fashion Designer and Recording Artist VIVERO aka. Jay Khendar sits down with Elliott Knight to discuss his journey into melding his vision of a solo music career with his upcoming fashion collection featuring at September NYFW – pandemic permitting.  His fashion house "Haus of Khendar" represents that staunch rebellion, not only through his designs and futuristic sense of allure but a strong tie to finding your identity through creative expression. He's styled and worked with some of the most eclectic female rappers in the game but also compliments his genius with other women of softer...
---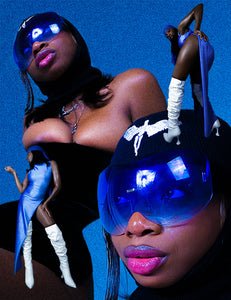 https://www.ladygunn.com/fashion-style/blue-period/ (CLICK HERE TO READ)  I WAS REMINDED THAT BEFORE ALL THIS,  IT WAS JUST ME AND MY IDEAS. I DECIDED TO SIT ALONE WITH MY MODEL, SMOKE A BLUNT, AND PHOTOGRAPH HER MYSELF, IN MY OWN HOME, WITH MY IPHONE. I EDITED THE PICTURES OVER THE COURSE OF A FEW MONTHS FULLY ALLOWING MYSELF TO BE PATIENT AND NOT RUSH UNTIL I FELT EVERY DETAIL WAS AS IT SHOULD BE. I ENLISTED SOME LAST-MINUTE HELP FOR FINAL EDITS FROM ANOTHER INCREDIBLE MODEL OF MINE, AND I SENT IT IN.  I DECIDED TO INTERVIEW KIMASA – AND ASK HER ABOUT HER "BLUE,...
---
• Haus of Khendar • Jay Khendar • Johnny Nelson Jewelry • Juliet Wolf • Khendar • Lady Gunn • Livia Rose Johnson
https://www.ladygunn.com/fashion-style/instigator-editorial/ (CLICK HERE)    AN INSTIGATOR BY DEFINITION IS A PERSON WHO BRINGS ABOUT OR INITIATES SOMETHING. IN MY LIFE, I'VE REALIZED HOW OFTEN I AM SEEN AS AN INSTIGATOR FOR WANTING TO DISCUSS AND TACKLE ISSUES HEAD-ON  – AND FOR NEVER WANTING TO BE SILENCED. AS THE BLACK LIVES MATTER MOVEMENT GREW AND WITH THE TRAGIC DEATHS THAT OCCURRED THIS YEAR, I FELT OUR VOICES BEING EVEN MORE STIFLED. I DECIDED TO USE MY PLATFORM TO HIGHLIGHT MY ORIGINAL MUSES (WOMEN) BUT MORE SPECIFICALLY, BLACK WOMEN. I MET WITH LIVIA ROSE JOHNSON TO HEAR HER THOUGHTS: AN INSTIGATOR BY DEFINITION...
---
• Asian Doll • Bali Baby • Bri Steeves • Cuban Doll • Dreezy • Malibu Mitch • Melli • paper magazine • Rico Nasty • Saweetie • Yung Miami